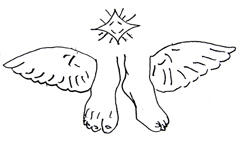 Reflexology is an ancient healing science which works to activate the healing powers of the body. Again it is both old and new. Research tells us that the early Chinese, Japanese and Egyptians worked on the feet to promote good health. Reflexology today continues the principle that there are energy zones/meridians that run throughout the body and that there are reflex points in the feet and hands that relate to every organ and all systems in the body.
The feet are our grounding with the earth; they have an abundance of nerve endings which makes them particularly sensitive. Through these nerves the body receives stimulation and can be revitalised.
The Treatment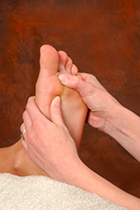 Reflexology is a completely safe and natural therapy. This is carried out in a safe space on a massage table, fully clothed except for socks and shoes. It is undertaken with one pair of hands applying specific pressure to the feet. Cost per session- First session includes consultation.  £45 -Following sessions-£35  Lasts approx. 1 hour.
Nutritional advice is also available if required.
Metamorphic Treatment
This is a method of Reflexology where, when the feet are not able to be touched, the hands and pressure points on the head are used instead.
I have a diploma in reflexology, Anatomy and Physiology and am a Member of the Healer Practitioner Association International, A charity organisation I have trust in.